We believe a celebration is not complete without a party cake!  This wasn't always the case though… While its origins are traced back to medieval Europe, the modern birthday cake only came into existence in Germany during the 17th century, when elaborate cakes and designs could only be afforded by the wealthy.  The good news is that food and baking utensils became more accessible to all in the ensuing decades and cakes started to become what they are today: the focus of the PARTY!  We have taken all the greatness from full-size bakery cakes and crafted it in a single bite!  Our Ultimate Party Cake consists of fun colorful vanilla cake layered with raspberry jelly, a creamy white chocolate coating and topped with rainbow sprinkles.  Everyday can now be a celebration with our on-the-go packages of Ultimate Party Cake!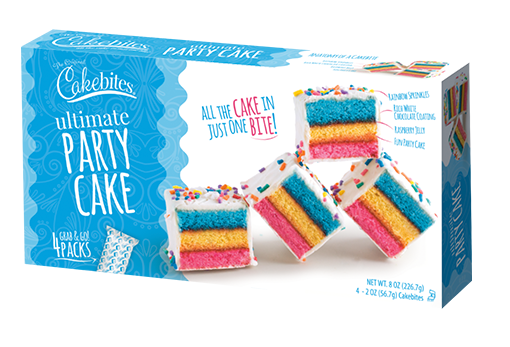 Check Out All Of Our Amazing Cakebite Flavors!
We would love to hear from! Drop us a line and we will be sure to get back to you!