It doesn't matter if they are a cake or a cookie!  Connoisseurs are raving about our Classic Italian Rainbow Cakebites: three colorful thin slices of velvety almond cake separated by raspberry jelly and finished in a silky dark chocolate coating!  These unique indulgent treats date back to the late 1800s when Italian-American immigrants made them a staple in special celebrations with family and friends.  The rainbow cookies quickly became synonymous with "local bakery craftsmanship". Widely known as seven-layer cookies, Italian wedding cookies or Venetians, these luscious treats are now available in convenient packaging for everyday consumption on-the-go.  No need to wait until the holidays or to be invited to a party!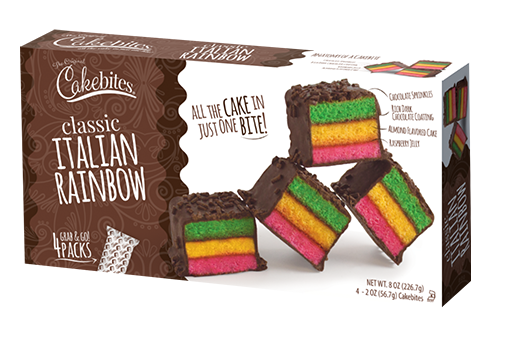 Check Out All Of Our Amazing Cakebite Flavors!
We would love to hear from! Drop us a line and we will be sure to get back to you!